New gearbox: a few steps back
We already had a robot that could walk (more or less), but now to improve it, we are taking a few steps back: in fact, we started by removing the legs completely! This might sound somewhat backwards, and it definitely felt that way for a while…
The overall goal is to try out a new design for the gearbox, improve the leg joints and change the motors to more powerful ones. That's a lot to change in one go, so we first started with a new "experimental" gearbox design, while still using the original legs. This should allow us to evaluate the new design, try different gear ratios, fine tune motor control to find a better compromise in speed and torque – all without worrying too much about the leg joints or other aspects.
This was meant to be a quick prototype. Unfortunately it took several weeks to finally get a working version.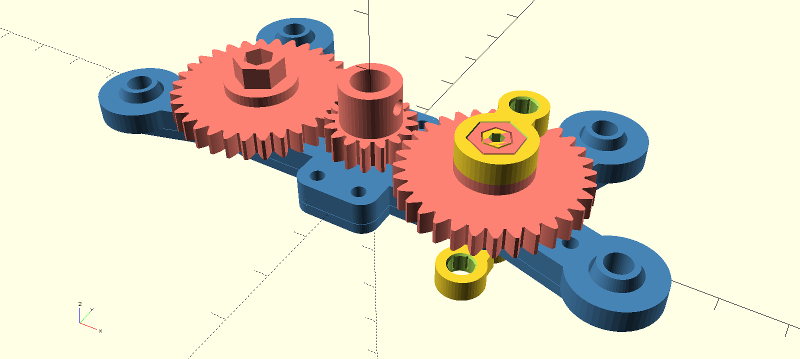 The new design turned out to be more challenging than expected: it involves new 3D-printed parts that are relatively small, have to be strong enough, and have to fit very precisely. Combining metal parts with 3D-printing can in theory be the best of both worlds: you get to make exactly what you need, with the right size and shape, but with enough strength and precision at the critical points. In practice it's not always trivial to figure out what combinations to use and it can be difficult to make everything fit together precisely. Especially when your 3D printer starts to develop various hard-to diagnose problems, and your prints become unreliable!
Without any further explanation, here are some pictures about the new design, the parts (they look quite simple now, but we had many iterations before these!) and the phases of assembly: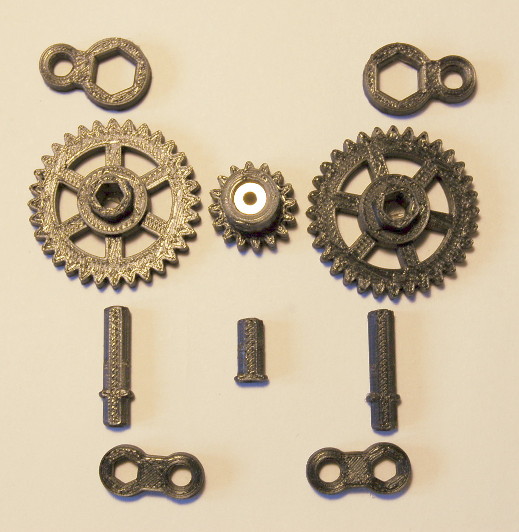 And finally, the result so far: only one side finished, speed sensors not mounted yet, but the legs are moving again! (In last year's version we used a 2:3 gear ratio, which was too fast, this is with 1:2 – looks like it can be reduced further.)
For the next steps (hopefully forwards), we'll need a lot more mini ball bearings!